T:SLIM X2™, BASAL-IQ 6.4,INSULIN PUMP-DEXCOM G6® CGM ENABLED
Prescription Required
Click image to enlarge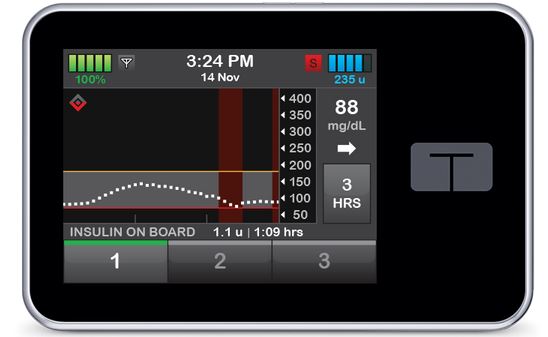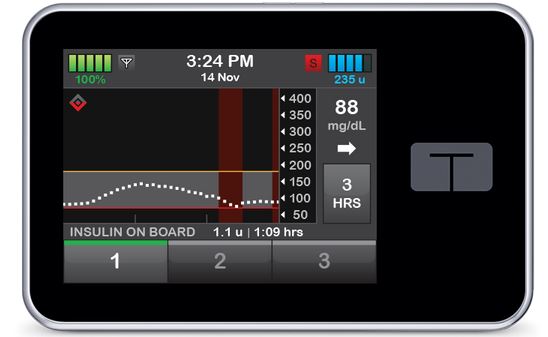 Description
Responsive Insulin Delivery:
Basal-IQ® technology predicts and helps prevent lows. It can turn insulin delivery on and off as often as every 5 minutes. There is n o minimum insulin suspension period.
Works Silently in the Background:
No added alerts or alarms beyond standard continuous glucose monitoring (CGM) and pump notifications.* Users must only decide if they want the feature turned on or off.
How it works:
Basal-IQ technology uses Dexcom G6 CGM values to hel p reduce the frequency and duration of low-glucose events by predicting glucose levels 30 minutes ahead and suspending insulin if they are expected to drop below 80 mg/dL or if a CGM reading falls below 70 mg/dL. Insulin delivery resumes as soon as sensor glucose values begin to rise.
Warnings and Precautions
Basal-IQ technology is intended for use with a compatible integrated continuous glucose monitor (iCGM, sold separately) and ACE pump to automatically suspend delivery of insulin based on iCGM readings and predicted glucose values. The bolus calculator is indicated for the management of diabetes by people with diabetes by calculating an insulin dose or carbohydrate intake based on user entered data. Users of the t:slim X2 pump and Basal-IQ technology must: be able and willing to use the insulin pump, CGM, and all other system components in accordance with their respective instructions for use; test blood glucose levels as recommended by their healthcare provider; demonstrate adequate carb-counting skills; maintain sufficient diabetes self-care skills; see healthcare provider(s) regularly; and have adequate vision and/or hearing to recognize all functions of the pump, including alerts, alarms, and reminders. The t:slim X2 pump, transmitter, and sensor must be removed before MRI, CT, or diathermy treatment.
Predicts glucose 30 minutes ahead.
Suspends insulin to help avoid the low.
Resumes insulin once glucose rises.