LIFTWALKER, 2 BUTTON, W/ASSIST BARS, 5" WHEELS, 1 EACH
Clearance Product
Over-the-Counter
Click image to enlarge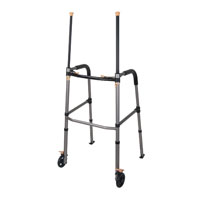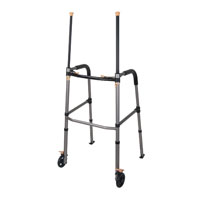 Description
The Lift Walker makes it easy to stand because the individual uses biceps, chest, back, stomach and leg muscles all at once. Easy push button mechanism may be operated by fingers, palms, or side of hand. Each side operated independently to allow easy movement through narrow spaces and greater stability while standing. Comfortable, soft foam padded hand grips. Comes with 5" wheels.
Warranty Information
Limited lifetime warranty.
For use by individuals who need assistance with sitting/standing on their own
Safer than being pulled by an attendant or caregiver
Reduces risk of injury to an attendant or caregiver
The retractable bars are easy to deploy
Easy to lock/unlock foot brake