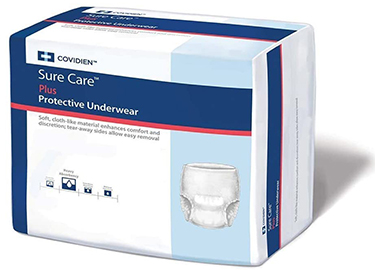 Super Absorbent
Sure Care Plus Protective Underwear
SureCare Protective Underwear is a dignified, discreet, disposable underwear-like product used for moderate to heavy incontinence protection. SureCare Underwear have the look and feel of real underwear while providing outstanding incontinence protection.
Cloth-like backing for comfort and dignity. Tear-away sides offer easy removal, and the Poly-fresh polymer core offers optimum absorbency and odor control.
View More Protective Underwear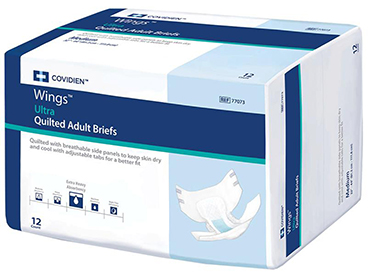 High density core
Wings Ultra Quilted Adult Briefs Benefits
Wings Adult Quilted Briefs are fully absorbent mat briefs with leg gathers for superior fit and containment. These briefs feature breathable, plastic-free side panels to ensure cool, comfortable protection.
The cloth-like outer covering provides a softer, quilted look and feel. The anatomically contoured mat provides maximum absorbency, dryness and odor control. Ideal for heavy incontinence.
View More Briefs
Super Absorbent
Kendall Tendersorb Underpads
The Kendall Tendersorb Underpad is designed for moderate to light absorbency needs and ideal for surface protection situations.
Tendersorb Underpads are constructed with a soft, breathable topsheet, a fluff absorbent core and a waterproof polypropylene backing.

Features guide stripe
Cure Medical Intermittent Coude Catheter
These sterile, single use catheters feature polished eyelets, tip options, and funnel ends for males and females. Cure Catheters are not made with DEHP, BPA or Natural Rubber Latex. Most male styles are offered uncoated and/or with a hydrophilic coating. In addition, the package for most styles features unique, dual openings for increased ease of use.
Cure Medical donates 10% of net income to research for a cure for SCI (spinal cord injuries) and CNS/D (central nervous system disorders)
View More Catheters
Easy Emptying
Leg Bags with Twist Valve
Leg bag can be used for those patients that require a catheter, but are able to ambulate on their own. Includes a twist valve for easy emptying and minimal spillage.
Latex-free. Includes elastic straps come pre-connected to each bag to easily attach to leg. Built in anti-reflux valve in each bag helps prevent backflow.
View More Leg Bags
All supplies in one convenient location
Intermittent Urethral Catheterization Trays
All supplies needed for catheterization in a convenient and cost-effective tray. Complete with graduated collection basin, gloves, urethral catheter, underpad, fenestrated drape, swab sticks, lubricating jelly and specimen container label.
View More Catheter Trays

Stop hiding from female bladder leakage
Leva Pelvic Floor Strengthener
The leva Digital Therapeutic is intended for strengthening of pelvic floor muscles, and rehabilitation and training of weak pelvic floor muscles for the treatment of stress, mixed, and mild to moderate urgency urinary incontinence (including overactive bladder) in women.
Proprietary motion sensor technology shows a static and dynamic representation of a woman's vaginal profile at rest and with movement during pelvic floor muscle training.

Real-time interactive visualization with Renovia's app provides patients with programmed coaching sessions to optimize their pelvic floor muscle training.

Patients can complete their training in any private setting in less than 5 minutes, twice a day. Patients have the ability to track, review, and share actionable data through this innovative, non-surgical treatment.
Bard Cunningham Penile Clamp
The Bard Cunningham Penile Clamp is an effective device to help control male urinary incontinence. This Cunningham Clamp is a hinged, stainless steel frame supporting two foam rubber pads, and a locking device. The user places the penis between the two foam pads and clamps the hinge shut.