COOL MIST HUMIDIFIER, DROP SHAPE, 0.9 GALLON TANK, BLUE
Over-the-Counter
Click image to enlarge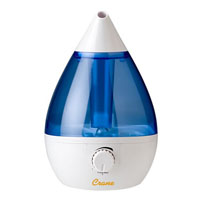 Description
Features:
Variable humidity control feature
Power on light indicator
Power: 32W
Water tank capacity : 3.4 liter/ 0.9 gallon
Running time per tank: min 11 hours
Moist output: 2.3 gallon/ 8.7 liter per day
Energy efficient- Uses less energy than a regular household light bulb
FDA registered
Directions
Set the correct humidity
Adjust the mist control so that the mist rises up and gets absorbed by the room air. Do not turn on too high an output as the mist cannot be ab sorbed by the air and accumulates on the surface around the humidifier.
If the humidifier is placed near a fan or air conditioning outlet the mist may be forced down by the foreign air stream. Change the location of the humidifier or reduce the output of the other room conditioning appliances.
A NOTE ABOUT HUMIDITY:
It is best to keep the humidity level at about 30-50 percent of relative humidity.
The comfort level of humidity will vary from room to room and with changing room conditions.
In cold weather, windows and even some walls may fog or develop frost from excessive indoor humidity. If this occurs, reduce the mist intensity setting to avoid damage from condensed water dripping on windowsills.
Too much humidity in the room may allow moisture to accumulate on surfaces where bacteria and fungi can grow. Moisture that gathers may also damage furniture and walls, especially wallpaper.
To eliminate excessive humidity, especially in small rooms, leave the room door open and adjust the mist intensity control setting.
How do I clean the water tank and water basin®
Cleaning your cool mist humidifier on a regular basis is very important not only does regular cleaning safeguard your health but increases the longevity of your humidifier.
ALWAYS empty the water tank and water basin when you turn off the humidifier
NEVER leave water sitting in the humidifier when you are not using it- Bacteria can collect in sitting water
CLEAN WATER TANK: After each use, it is recommended, to empty water tank. Fill water tank with fresh water add 1 tablespoon of white vinegar or bleach to water. Place cap on water tank. Let water tank stand several minutes then shake vigorously holding the sides with both hands. Empty and rinse again to eliminate any white vinegar or bleach smell. Refill with fresh water when ready to use.
CLEAN WATER BASIN: Wipe water basin with soft cloth dampened with white vinegar and water solution. Rinse the water basin with cool water to remove any vinegar smell. NEVER IMMERSE WATER BASIN IN WATER.
CLEAN EXTERIOR: Wipe all exteriors surfaces of the base with a soft dry cloth. DO NOT immerse the base in water. An electric shock may result or humidifier may be damaged.
Whisper quiet operation
Auto-off function when water tank is empty
Variable mist output control
Removable water tank
Suitable room size: Approx. 250 sq.ft/ 23m2
| | | | |
| --- | --- | --- | --- |
| | Quantity | | (1 x 1.0 EA MIS = 1.0) |
| | Order # | | 04368495301 |
| | Mfg # | | EE-5301 |
| | Mfg Name | | CRANE |
| | HCPCS | | CASH |
| | Weight | | Not available |
| | Taxable | | Yes |