NO-STING SKIN BARRIER FILM, 25/EACH
Over-the-Counter
Click image to enlarge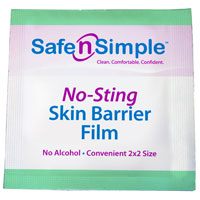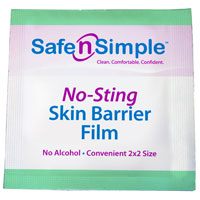 Description
Our No-Sting Skin Barrier Films are alcohol free and do not hurt or sting when wiped on the skin. They work well on sensitive skin that is easily irritated. Our Skin Barrier Wipes come in a variety of sizes, both large and small, depending on the application need. They are easy to handle and protect the skin, providing a film barrier when adhering and adhesive accessory. It can improve the adherence of a pouch and extend the use. Very gentle, convenient and scent-free. The applicator wand provides a no-sting, alcohol-free transparent protective coating to the area applied. Increases adhesion of tapes and wafers. Conveniently packaged applicator wands are gentle on the skin, sterile and scent-free.
Directions
General Instructions for Use:
Open Package: tear open top or side edge of individual package
Remove wipe

Discard packaging
Gently wipe skin surrounding stoma to apply thin protective barrier
Allow skin to dry completely before applying tapes, adhesives, or ostomy pouching system

Apply pouching system
NOTE: For optimum effectiveness, use Peri-Stoma Cleanser & Adhesive Remover before the No-Sting Barrier Film. Reapply Skin Barrier with every pouching system change.
Ingredients
Purified Water, Diglycol/CHDM/Isophthalates/SIP Copolymer, Glycerin, Sorbitol, Octoxynol-9, Dimethicone Copolyol, Propylene Glycol, Methyparaben, Propylparaben, Diazolidinyl Urea
Warnings and Precautions
CAUTION: FOR EXTERNAL USE ONLY
Alcohol Free - Does Not Hurt when Wiped on Skin

Large Wipe - Easy to Handle

Protects the Skin

Helps Pouch Adherence

Several Packaging Options: Large Wipe, Sachet, Spray, Wand and more