SPECTRA SYNERGY GOLD DUAL POWERED ELECTRIC BREAST PUMP, 1/EA
Prescription Required
Click image to enlarge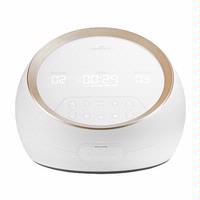 Description
The new Synergy Gold electric breast pump offers the most advanced and up-to-date technology in the industry. The SG is the first pump of its kind that allows moms to adjust each side independently. Like all Spectra pumps, the SG is a true closed system, creating a hygienic barrier between outside contaminates and mothers milk. This advanced technology promotes more productive pumping sessions that can save time with comfort and ease. The LED lamp shines a mild indirect light for breastfeeding in dark rooms and as a sleep lamp.

The Spectra Synergy Gold comes with everything you need to single or double pump.

Two (2) 24mm Spectra breast flanges

Two (2) 28mm Spectra breast flanges

Two (2) Spectra Backflow Protectors. Includes silicone membrane, uppercase, and lowercase caps for each Backflow Protector

Two (2) Spectra Duckbill Valves

Two (2) Spectra Tubing with Adapter Ends for each Tubing

Two (2) Spectra Wide Neck Storage Bottles. Includes nipple, cap, disc and cover for each bottle

One (1) Spectra 12-Volt AC Power Adapter. International voltage compatible but only US wall outlet prong included.
Dual controls allow for independent settings on each breast
Ultra quiet for discreet pumping sessions
Backflow protection to prevent against contamination
Soothing 3 level illumination night light
Touch screen LCD with timer control and mute mode