FITRIGHT® EXTRA BRIEFS, CLOTHLIKE, LARGE, 48"-58", 20/BAG
Preferred Product
Over-the-Counter
Click image to enlarge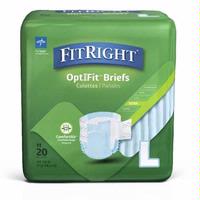 Comments
As announced in the June 2016 Medicaid Update, beginning September 1, 2016, all adult and youth sized diapers dispensed to all Medicaid enrollees must meet minimum product specifications established by the Department of Health: 
No plastic (non-breathable) backed products;

Rewet rate of <2.0g;

Rate of Acquisition (ROA) of <60 seconds;

Retention capacity of >250 g;

Presence of breathable zones with a minimum value of >100 cubic feet per minute (cfm);

Presence of a closure system which allows for multiple fastening and unfastening occurrences.
Fit Right® Extra Briefs promote a better fit as well as comfort and dignity.
4D-Core™ with odor protection helps wick fluid away to promote dryness and help maintain skin integrity.
Skin-safe closures provide secure, safe and repeated refastenability. Moisture alert wetness indicator changes color when the garment has been soiled.
Ultra-soft cloth-like backsheet provides a discreet, garment-like, natural feel.
Breathable side panels increase airflow and maximize patient comfort. Made in the USA.
Size: Large 48"-58"